Santa Ana Managed IT Services

Protect your company from security threats and downtime
No business today can run without their IT services and hardware in place. No matter what industry, they are the tools of the trade. The challenge for many businesses is that their "tools," from mobile devices to in office hardware, have now become the source of risk.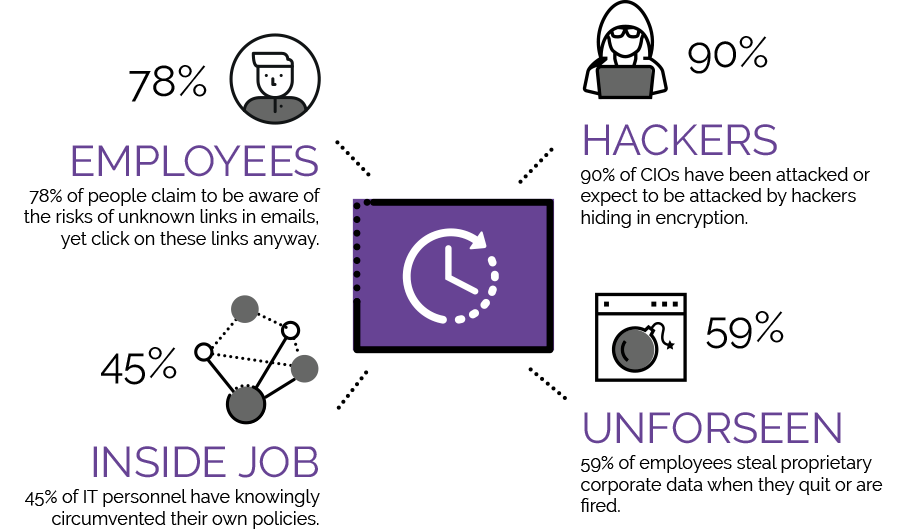 About Managed IT Security Services Provider in Santa Ana
As a county seat, Santa Ana is located right at the heart of Orange County, California. With over 60 elegant neighborhoods, it is Orange County's second-largest city and the fourth-densest city in the United States, with more than 332,000 residents. Santa Ana's strategic central location plays a crucial role in its diverse and growing community.
Downtown Santa Ana features thriving communities wherein commercial and retail businesses, local neighborhoods, merchants, artists, and real estate investors work together to form a tight-knit community. With its flair for arts and historical sites, Santa Ana also offers a cultural and distinct experience.
Santa Ana is a central regional economic and cultural hub for Orange County. Entrepreneurs and business owners are drawn to this region due to the deep talent pool and valuable work ethic.
Santa Ana businesses can rely on trusted managed IT service providers to focus on their core business.
Affant – Santa Ana's Trusted Managed IT Services Provider
In today's modern society, information technology encourages corporate innovation. Innovative solutions result in more intelligent applications, enhanced data storage, quicker processing, and wider information dissemination. However, not all businesses and organizations have the knowledge, resources, and time to manage these factors.
Here, Affant comes into play. As a dependable provider of managed IT services, we enable California businesses to concentrate on their core activities by handling their IT requirements.
With more than two decades of expertise in the field of managed IT services, our mission is to assist businesses in managing their IT operations efficiently and effectively. You may rely on our solution to grow your Santa Ana business!
Proactive response monitoring 24/7
It's Our Job To Keep You Safe
One monthly flat rate gives you all you need, anytime, all the time. Wondering what proactive monitoring is?
We can answer all of your questions! Reach out to learn more.
24/7 Support
Solving problems BEFORE they're problems, we are here to monitor, support, and fix any issues for a flat fee.
Network Support
We take full responsibility for any problems, including 3rd-party vendor issues. Great IT skills, no blame, all service.
IT Security Services
We take the stress off your shoulders, keeping your business running through monitoring and recovery plans.
Cloud Services
Increase agility in your company and showcase the revenue-growth potential of IT at your business.
What We Offer: Top-Rated IT Services
Growing businesses need to keep their technology up to date. Using our tools, you can improve communication and determine how reliable existing structures are.
With around-the-clock service monitoring that discovers problems before they impact your business, you can rest certain that we've got you covered. Focus on the strategic initiatives that will demonstrate the IT department's worth in order to make the most of your time.
We provide a vast array of managed IT services, such as remote monitoring every minute and in-house updates and installation.
Web Security Services
IT Security Services
Infrastructure Network Management
Security Information and Event Management
Cloud Security Services
Cloud Migration Services
Affant provides not only a one-fee guarantee, but also a money-back guarantee. Our goal is to eliminate ineffective IT solutions so that you do not waste time and money. Our objective is to resolve IT issues without errors or downtime, and we promise efficiency in all facets of our work.
New customers can sample our services for free for 30 days. During this period, we will be establishing your network and providing IT assistance. Then, we ensure that your system is connected, secure, and effective.
We will return your first month's money in full if your business is not functioning more efficiently after 30 days. It's that easy! This guarantees that our customers are pleased with the services we offer.
Work With Affant's Best IT Experts In Irvine
You may begin as a partner with a single solution and expand from there. Discover the benefits of our security and networking solutions by learning more about them. If you appreciate the assistance we give, you can always add more services to meet your needs.
Our team of Affant specialists is available to assist your business as it expands. We offer the best managed IT services on the market, with no additional fees. Our objective is to establish lasting connections with our clients and assist them in operating their businesses successfully.
Affant operates in several cities across California. Aside from Santa Ana, we also offer managed IT services in Orange City, Tustin, Fountain Valley, and more. Contact us now to get started with our simple solutions.
Contact Us
Anything not on the website? Want to schedule a quote?
Shoot us a message! We'll gladly contact you promptly. We promise your info will remain private. Please submit your inquiries below.