San Diego Managed IT Services
Protect your company from security threats and downtime
No business today can run without their IT services and hardware in place. No matter what industry, they are the tools of the trade. The challenge for many businesses is that their "tools," from mobile devices to in office hardware, have now become the source of risk.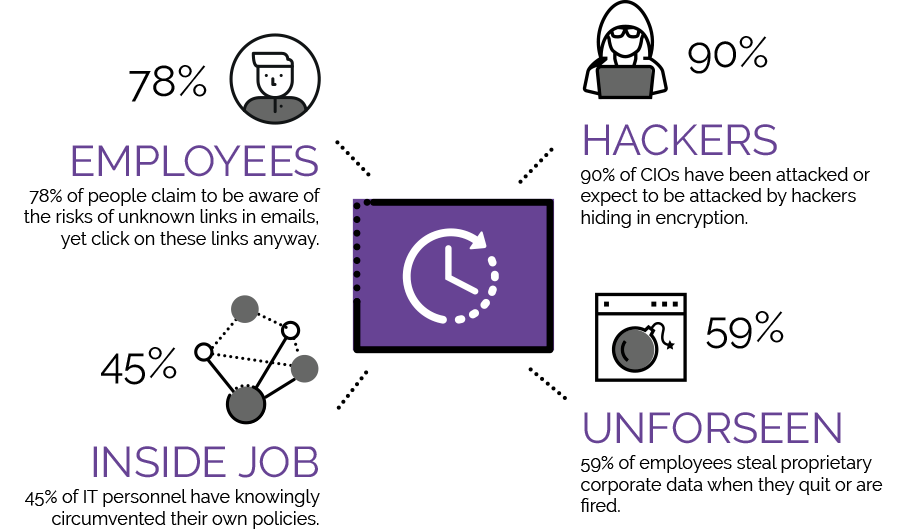 About Managed IT Security Services Provider in San Diego
San Diego is well known for its picturesque beaches, sunny weather, vibrant urban core, impressive hotels, and vibrant nightlife. It's no wonder the city is the sixth most popular tourist destination in the country, with over 35 million visitors annually.

This region of the U.S. is located in the golden state of California, which is one of the most populous in the country. Over one million people live in this city, which is the second most populous in the state after Los Angeles. A county with a population of about 430,000 and nearly 70 miles of beaches on its coastline, it is the fifth-largest county in the country.

Since San Diego is the metropolitan center of California, it is one of the state's most prominent economic centers. A lot of the city's income is generated by its profitable companies, which are dominant players in technology and innovation.

San Diego City's business-friendly climate also makes it a great place to start an enterprise. Businesses in San Diego City need a trusted managed service provider to help with their daily operations!
How Can a Managed Service Provider Help Your Business?

Managed services enable businesses to identify and resolve technical issues before they can have a negative impact on the business. You can rest assured that your computer network will operate smoothly and efficiently due to proactive service and routine maintenance.
To stay competitive in their respective markets, businesses require a trustworthy IT system. By providing support services, a managed services provider (MSP) can identify threats, proactively monitor, and resolve potential issues to prevent your company from being overburdened by limited IT resources.
As an industry leader in managed IT services, our tech experts at Affant can assist you in developing laser-focused IT solutions for your business operations. The following are some managed support services that you can include in your IT support package:
Network Security

– Cybersecurity assurance is the most critical asset for any business. You can receive the necessary software and support to guard against any potential threat. Affant's 24/7 network monitoring system can detect problems even before they arise.

Cloud Services

– By outsourcing your cloud services, you can reduce expensive network maintenance expenses. Staffing a full-time in-house team to maintain your cloud-based services is costly, and with cloud-based solutions, small and medium-sized businesses may not need one.

Infrastructure Management

– Network infrastructure management typically includes the physical cabling, hub, bridge, switch, and router. IT infrastructure monitoring also involves the selection and use of telecommunication protocol and computer software for using and managing the network.
Working with managed service providers offers you the commitment, industry knowledge, and expertise of an entire IT department that is focused on delivering your core business.
Trusted managed services providers can assist with technical support and the day-to-day tasks of more time-consuming and complex projects, allowing you to concentrate on expanding your business' core competencies.
Proactive response monitoring 24/7
It's Our Job To Keep You Safe
One monthly flat rate gives you all you need, anytime, all the time. Wondering what proactive monitoring is?
We can answer all of your questions! Reach out to learn more.
24/7 Support
Solving problems BEFORE they're problems, we are here to monitor, support, and fix any issues for a flat fee.
Network Support
We take full responsibility for any problems, including 3rd-party vendor issues. Great IT skills, no blame, all service.
IT Security Services
We take the stress off your shoulders, keeping your business running through monitoring and recovery plans.
Cloud Services
Increase agility in your company and showcase the revenue-growth potential of IT at your business.
Partner With Affant For Streamlined IT Solutions
Affant can tailor IT security solutions to your specific requirements. We can integrate with your current security platforms and infrastructure. Our security experts can provide an evaluation and tailor a solution based on your needs!
With years of experience, we develop IT management services that are tailored to your business objectives. Reduce operating expenses and gain a competitive advantage backed by years of experience in the IT industry.
We provide a vast array of IT management services, including remote proactive monitoring every minute and in-house upgrades and installation:
Web Security Services
IT Security Services
Infrastructure Network Management
Security Information and Event Management
Cloud Security Services
Cloud Migration Services
Aside from San Diego, we also offer services in Chula Vista, La Mesa, and Escondido, and more. Take the first step towards smart IT solutions by contacting us today!
Contact Us
Anything not on the website? Want to schedule a quote?
Shoot us a message! We'll gladly contact you promptly. We promise your info will remain private. Please submit your inquiries below.