Los Angeles County Managed IT Services
Protect your company from security threats and downtime
No business today can run without their IT services and hardware in place. No matter what industry, they are the tools of the trade. The challenge for many businesses is that their "tools," from mobile devices to in office hardware, have now become the source of risk.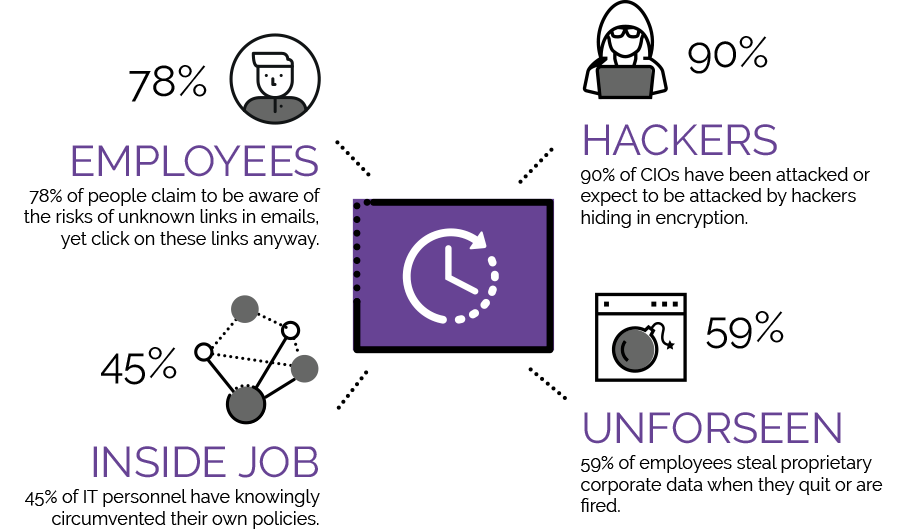 About Managed IT Security Services Provider in Los Angeles County
The county with the most inhabitants in the United States is Los Angeles County. According to the United States Census Bureau for 2021, this county is home to more than 9.8 million people. With millions of residents, the county of Los Angeles has a larger population than forty states in the United States.
As an economic powerhouse, Los Angeles County has the world's third-largest metropolitan economy, with a nominal GDP of more than $1 trillion. With 4,083 square miles, 88 incorporated cities, and numerous unincorporated areas, it is one of the most culturally diverse counties in the U.S. and home to more than a quarter of California's population.
Typically, the region is associated with the entertainment and digital media industries. In addition to international trade support, music recording and production, aerospace and defense, fashion, and professional services, numerous other significant industries define the economy of Los Angeles County.
Businesses in Los Angeles County need a trusted managed service provider to help with their daily operations!
Signs Your Business Needs a Managed IT Services
It is optimal for expanding businesses to seek outside assistance to alleviate the workload of their in-house team. Seeking the expertise of reliable managed services providers (MSP) is a practical solution for many businesses.
Managed service providers can take over your day-to-day operations, including networking infrastructure management, cloud hosting, remote monitoring, network monitoring, disaster recovery, data analytics, technical support, and more.
By outsourcing these managed support services, your team can be more productive on your business' core competencies. But how can you determine if the time is right to hire a managed services provider?
1. You Want To Expand Your Operations
If your business is in a growth phase, you must build scalable technology and systems to achieve your objectives. A managed services provider can assist in establishing the software and network you need to deal with new data due to rapid expansion.
2. Your IT Costs Are Growing
As businesses expand, spending on hardware, networking infrastructure, and software development can increase exponentially, not to mention the labor costs associated with maintaining this infrastructure. MSPs provide the option to switch from large capital expenditures to more manageable monthly expenses.
3. You're Experiencing Frequent Downtimes
Many business owners and IT managers underestimate the impact of unplanned downtime on their operations. While no IT infrastructure is perfect, frequent downtimes may disrupt your operations and cause a loss in revenue. IT experts can take a proactive approach to your IT infrastructure to prevent this.
4. You're Not In The Cloud
Cloud services are infinitely scalable, accessible from all devices, and can save you money on hardware storage and maintenance. If your company has not yet explored the benefits of cloud-based services, a managed service provider can help you get started.
IT management services enable businesses to stay competitive by minimizing performance issues.
As an industry leader in managed IT services, our tech specialists at Affant can assist you in developing IT solutions that are laser-focused on your business growth and employee productivity.
Proactive response monitoring 24/7
It's Our Job To Keep You Safe
One monthly flat rate gives you all you need, anytime, all the time. Wondering what proactive monitoring is?
We can answer all of your questions! Reach out to learn more.
24/7 Support
Solving problems BEFORE they're problems, we are here to monitor, support, and fix any issues for a flat fee.
Network Support
We take full responsibility for any problems, including 3rd-party vendor issues. Great IT skills, no blame, all service.
IT Security Services
We take the stress off your shoulders, keeping your business running through monitoring and recovery plans.
Cloud Services
Increase agility in your company and showcase the revenue-growth potential of IT at your business.
Partner With The Leading Managed Services Provider

Affant can customize IT security solutions to meet your specific needs. We can integrate with your existing security infrastructure and platforms. Our security experts can evaluate your needs and customize a solution accordingly!
With years of experience, we tailor IT management services to your organization's goals. Reduce operating costs and gain a competitive advantage through our services. We offer an extensive range of IT management services, including minute-by-minute remote proactive monitoring and in-house upgrades and installation.
Aside from Los Angeles County, we also offer services in Glendale, Long Beach, Inglewood, and more. Contact us today to get started on solutions made easy!
Contact Us
Anything not on the website? Want to schedule a quote?
Shoot us a message! We'll gladly contact you promptly. We promise your info will remain private. Please submit your inquiries below.
FREQUENTLY ASKED QUESTIONS