Oceanside Managed IT Services
Protect your company from security threats and downtime
No business today can run without their IT services and hardware in place. No matter what industry, they are the tools of the trade. The challenge for many businesses is that their "tools," from mobile devices to in office hardware, have now become the source of risk.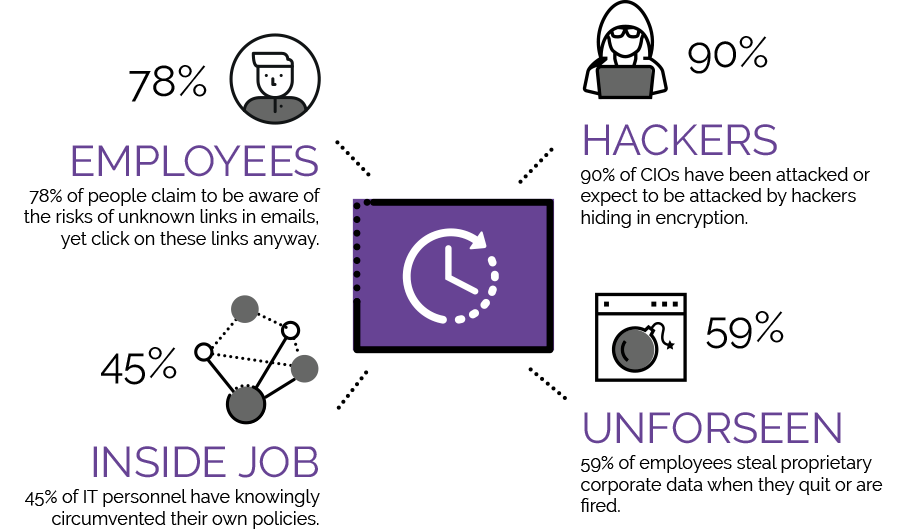 About Managed IT Security Services Provider in Oceanside
Oceanside is located in San Diego County on the South Coast of California. As of the 2010 census, there were 167,086 people living in the city. As a result of the city's historical landmarks, beaches, and architecture, it is a popular tourist destination.

This affluent city has a flair for arts, history, and culture. There is a great deal of activity at the Oceanside Museum of Art, which is relatively new and is a busy center for art. Approximately fifteen contemporary art exhibitions take place at the museum each year, as well as numerous concerts.

Nature and the environment have a place in Oceanside despite its location in a very urbanized county. With over 4.5 miles of hiking trails and two ponds to fish in, Guajome County Park is a great place to enjoy the birds. At the northern edge of the Buena Vista Lagoon is the Buena Vista Audubon Society & Nature Center.

Oceanside's business-friendly climate also makes it a great place to start an enterprise. Businesses in Oceanside need a trusted managed service provider to help with their daily operations!
5 Things to Look For in Your Managed Services Provider

By partnering with the right managed service provider, growing businesses can often save time and money. Managed service providers enable you to supplement your existing IT staff by teaming up with a dedicated IT company to handle infrastructure management and manage your network, cloud services, servers, computers, and all of your technology requirements.
Hiring managed IT services is the ideal solution for businesses that must operate at peak efficiency but lack the resources to manage a large in-house team. It is important to choose the right partner for your managed services needs. Here are characteristics to look for in a provider of managed services:
Technical Expertise

– Consider a provider who understands the technologies your business employs, has partnerships with top vendors, and whose team preserves certifications in the products it supports.

Fast Response Time

– In addition to being available at all times, your provider must also immediately respond to your needs and issues. Ensure that your IT service provider does not forward calls to desk support, but instead responds promptly.

Proactive Method

– A break-fix mentality is something that experienced MSPs try to avoid. Instead, they focus on proactive monitoring to prevent problems from occurring through the use of data analytics and root cause analysis.

Good Reputation

– When evaluating IT companies, dependability and reputation are also crucial attributes. You should ultimately evaluate a company's reputation using online reviews, customer testimonials, and references. Experience in your particular industry is also advantageous.

Broad Portfolio

– A prospective managed IT services provider must provide a comprehensive suite of managed services, including infrastructure and enterprise application management, managed security, resilience, mobility, and managed hosting and cloud.
IT services providers can take over your day-to-day operations, including cloud hosting, mobile device management, technical support, remote monitoring, network monitoring, disaster recovery, data analytics, and more.
Outsourcing these IT management services enable businesses to have more time and resources to focus on their business objectives.
Proactive response monitoring 24/7
It's Our Job To Keep You Safe
One monthly flat rate gives you all you need, anytime, all the time. Wondering what proactive monitoring is?
We can answer all of your questions! Reach out to learn more.
24/7 Support
Solving problems BEFORE they're problems, we are here to monitor, support, and fix any issues for a flat fee.
Network Support
We take full responsibility for any problems, including 3rd-party vendor issues. Great IT skills, no blame, all service.
IT Security Services
We take the stress off your shoulders, keeping your business running through monitoring and recovery plans.
Cloud Services
Increase agility in your company and showcase the revenue-growth potential of IT at your business.
Affant: Bringing Scalable IT Solutions
As an industry leader, Affant offers technological solutions and strategic planning to businesses of all types in Orange County. We manage your daily operations, including cloud services, infrastructure monitoring, managed solutions, and data backups.
Our team is comprised of certified IT professionals who are prepared to assist you with any technical issue to help your growing business.
Affant can tailor IT security solutions to your specific requirements. We can integrate with your current infrastructure and platforms for security. Our security professionals can assess your needs and tailor a solution accordingly!
We provide a vast array of IT management services, such as minute-by-minute remote proactive monitoring and in-house upgrades and installation.
Wherever you are, our IT experts are ready to help you! We also offer services in Carlsbad, Vista, and Escondido. Reach out to Affant today to get started on our innovative IT services!
Contact Us
Anything not on the website? Want to schedule a quote?
Shoot us a message! We'll gladly contact you promptly. We promise your info will remain private. Please submit your inquiries below.